Manuals
There are NO Canadian texts that you can purchase that cover our subject matter. Many teaching establishments have attempted to produce manuals on residential HVAC systems, but they are mostly based on material and models produced by the American Society of Home Inspectors, and content unique to the United States. Although their content MAY enable the user to examine Canadian residential HVAC systems, our Codes and Standards, unique to Canada could leave the learner with a deficit in their learning that may cause him or her to miss a vital unsafe condition.
This is what makes my publications unique and so necessary for you, the inspector, to obtain and apply to your industry.
Because of the time I have spent in the HVAC industry in Ontario, working with fuel codes,building codes, inspections, installations, service work and homeowner complaint resolution, I am able to apply my vast amount of learning to a manual that covers the entire basics of residential Heating Ventilation and Air Conditioning from a purely Canadian perspective, covering all of Canada's excellent safety standards, covering installations and conditions that are totally practical to the typical student.
---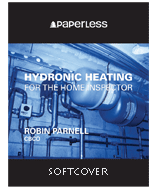 Hydronic Heating for the Home Inspector (click to order)
(106 pages with supporting diagrams and colour pictures)
This Manual covers the basics of inspecting installed hydronic heating systems. Hydronic heating is the most practical, dependable, efficient and versatile method available for heating homes. Today's hybrid hydronic installations are quite complex in their installation zoning, indoor temperature controls, and hot water provisions.
---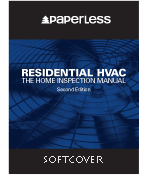 Residential HVAC - The Home Inspection Manual,
Second Edition (click to order)
8.5" x 11" softcover, 452 pages
Containing over 300 colour illustrations, tables, and formulas, this manual provides in-depth coverage of all heating, ventilation, and air conditioning systems for residential applications.
---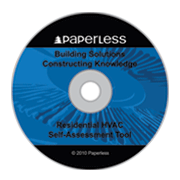 Be prepared for the HVAC House exam with the
Residential HVAC Self-Assessment Tool! (click to order)
There are two types of tests on the Residential HVAC Self-Assessment Tool: Practice Quiz and Simulated Exam.
The Paperless Self-Assessment Tool changes the order of the questions, so it can be used as often as needed, until you feel confident that you are ready to take the exam!
---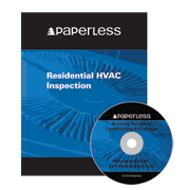 Study the course reference manual and test your skill before taking the Home Inspection Certificate Exam with the
Residential HVAC Inspection Pak! (click to order)
Includes:
•Residential HVAC Inspection Manual
•Residential HVAC Inspection Self-Assessment Tool
---
My manuals, are complete with all the information you would need to assist you as you start on this road to learning about residential HVAC systems, short form names are explained, pictures and details that are not normally available to your average educator are reproduced whenever I feel that the operation or installation of a system or method of operation would be better explained. After all a picture is usually worth 1000 words! It will leave the learner in no doubt about the subject matter in the classroom and instantly recognizable on site.
All my manuals are available to purchase at:

Click to visit ORDERline site
---
Building Inspectors.
You will notice that I have applied most of this information to Home Inspection but I also instruct Building Inspection Personnel. A huge number of municipalities in the GTA have already taken my excellent course and are in possession of my Manual designed to guide you to all the requirements of the OBC that are related to and need to be enforced in respect to Residential HVAC Inspections.
Below
:
Page detail from my manual showing exactly what type of appliances can produce a dangerous spillage of flue gasses into the building envelope, and which furnaces can not.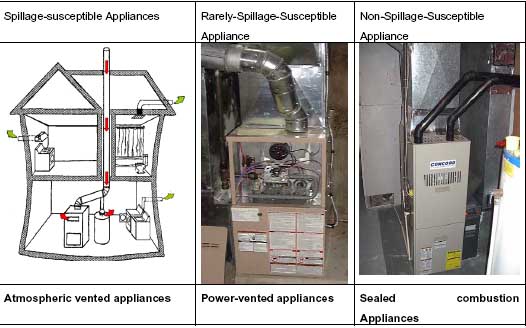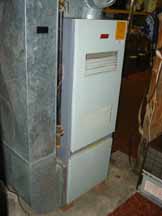 Atmospheric gas fired furnace with draft hood opening,. Vent pipe is above, the round metal (galvanized) piping.

Compare this picture of an actual spillage susceptible appliance with the schematic detail above.( Reproduced with permission from NRCan).

If when operating a problem occurs with the operation of the chimney or venting system this furnace can fill the building envelope with the products of combustion. Providing that the combustion was being "complete" then no lethal situation would start to occur entail the building envelope was deprived of oxygen.

The details of the other two appliances clearly show that with no opening to allow products to leave the furnace after combustion of the gasses, the whole combustion process is not only safer but much more efficient. No conditioned air from the building envelope is entrained into the venting process except for the designed amount induced by the vent motors. Atmospheric venting appliances will vent conditioned air from the building envelope whenever there is a difference between the indoor and outdoor air pressures. Negative pressure in the home will or can induce the products of combustion to be entrained into the building envelope and not vented out of the chimney. This process is clearly identified with the energy audit.

My manuals are as complete as this and as full of pictures to present, in as much detail as possible, so as to leave the student in no doubt of the subject matter.

A whole module built just for ventilation of our homes will leave the learner in no doubt about the importance of this topic. For the in-class participant the on-site energy audit puts the whole subject into perspective. If your course did not include this, you will be missing most of the implications available in this unique practical application.

This proven method of learning, see, feel, hear and do, is what I practice in my in-class presentations. A guaranteed pedagogical process where the student remembers at least 60% of the subject matter, but I do not stop there you have the ability to contact and interact with me at any point in the future where you need assurance on an issue.