Courses
Due to my unique work history in the
Building Inspection Field I have the experience to instruct builders and contractors to enable a successful energuide 80 audit - and
I have been in the teaching field for over 17 years to current and past HVAC installation standards. An essential requirement to educate students from experience.
My current Course content includes:
Residential HVAC Inspection for the Ontario Building Code
Basic introduction to all types methods used to provide HVAC to home
Manual built for the learner
Full after-class support to the learner by Email and phone
On-site practical inspections with the class
On Site Energy Audits to the NRCan Hot 2000 program
On-site final inspection
In-class projects
In-class presentations
The final in-class examination is unique in its content;
Both written and practical, involving an in-house inspection followed by a class presentation of the findings
A great practice step for actual home inspections and reporting without the pressure of the home owner being there
If the course you took does not include:
Practical in class projects
On site visits
In class presentations
Manufacturers site visits
A written and practical final exam and presentation
After school professor contact and support
After class alumni
Then just what have you paid for?
What prospects do you have after your schooling ends, to stay current and have professional, reachable and caring support when you encounter a problem out there?
Topics Featured:
Common defects
The building envelope
Home energy audits
New Courses:
I would work with you, the client, to design, develop, and implement courses (and/or of any off-school project) to suit your needs.
I can tailor my courses to Ontario Building Code HVAC house exam standards. This course would allow building Inspection staff to inspect residential HVAC systems installations for compliance to current codes and standards.
Current Courses:

Presently I am working on or have developed manuals for and presented the following HVAC courses:
Building Inspectors Generalist program HVAC portion built manual and presented in-house. Instruction to building inspection personnel in the art of inspecting Residential HVAC to OBC current standards
Wood Heating systems built manual and presented in-house
Kitchen Exhaust systems to OBC 2001/ NFPA 96 built manual and presented in-house
Hydronics for the competent inspector
Ask to see my manuals, the inspection process, section by section fully pictured and explained, an excellent way for your staff to understand the HVAC requirements to better able to inspect to those requirements.
Let me quote you on a course tailor made to your local municipal requirements, a full knowledge of heating from the basics up, or section by section modules related to the Ontario Building Code sections that deal only and totally with HVAC disciplines. 9.33- 6.2.4. and 9.32 are the basics you would need.
Further modules can be added as your staff become more competent at their new discipline:
Hydronic Heating
Wood Heating installation
Kitchen exhaust systems
Fire ratings and fire damper installation and multiple family dwellings
Your Building Inspection staff will be able and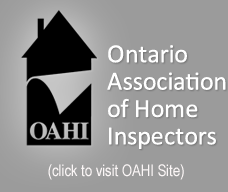 competent to inspect Installed HVAC system to current OBC standards.
All of my in college courses for Home Inspection are approved to the critically high standard required by O.A.H.I. and are accepted toward the accreditation required by O.A.H.I. for you to become certified to R.H.I.

---

Residential Heating Inspection
In-class and Distance Education (paper-based)
In class:
Course # HVAC 9028 (click for website)
Distance Education:
Course # HVAC 9041 (click for website)
George Brown, The Toronto City College
---
Note: Colleges will only run the In-Class course with sufficient enrollment.