About Robin Parnell
I am a fully qualified (BCIN) (now retired) HVAC Inspector (Heating, Ventilation and Air Conditioning) with over forty years experience in the residential (HVAC) field.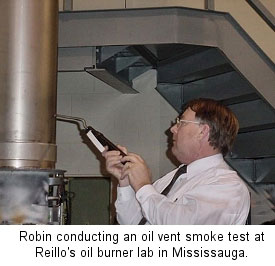 My classroom and online courses are for Building Inspection staff who want to gravitate to a Generalist Inspector, or want to improve their working application of the Residential parts of the Ontario Building Code and related codes, and Home Inspectors, but would benefit any practitioner of residential HVAC systems and/or anyone involved in building code enforcement.
I specialize in the instruction of all types of HVAC systems. I'm passionately committed to enabling students to know and understand why and how residential HVAC systems and services work.

My unique work experience brings a creative atmosphere to the school environment. Students need to have well versed and stable facilitator who is able to communicate on and to all levels of knowledge and abilities of the learner, and who has a deep understanding of the whole building envelope in not just the residential field.

When you attend my course you will experience the dynamic learning environment I create n the class room. My students benefit from my . . .
Strong mechanical background
I Author, Design, Develop and print manuals and teach courses in residential HVAC systems, "in-Class" at colleges throughout the Toronto area
Full HRAI certification including R.S.D., Combo Systems and Residential Ventilation
Multi-discipline work experience
HVAC Inspector C.B.C.O with B.C.I.N, full time with over 30 years experience
A teacher in residential HVAC systems at various community colleges in Toronto and area for over 17 years
Teaching qualifications, course and materials design
Completed the community college teachers training program
Develop manuals and teach courses for Building Inspection staff to enable the competent inspection of HVAC systems to the Ontario Building code and all related codes pertaining to HVAC, including NFPA 96 and Wood heat courses
Writing and editorial knowledge and application in Desktop Publishing
Electronic class room presentation competent
Excellent interpersonal relationship skills
Positive attitude
Ontario M.M.A.H. Certified facilitator
Nominated three times for the OAHI / CAHPI national conference Michael Ludolph award, 2007, 2011, 2012 (Thank you to the many students who were responsible for these prestigious nominations)
Multitasking, changing job skills, intensive IT knowledge requirements and attitudes, all need to be addressed by one's instructor and passed on to one's learners, to enable them to competently adapt to changes in their new work environment. This translates to assisting students in adapting to the extra skills and knowledge that their new work environment demands.
Thank you for taking the time to review my site, and qualifications!